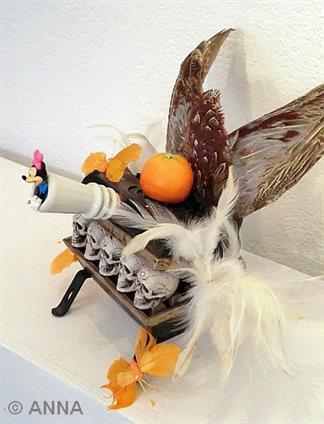 THE BELGIAN WAFFLE IRON, 2012
or SMALL ELECTRIC KITCHEN APPLIANCES - BRAND INNOVATION



28 by 35 by 40 cm.
Feathers, glass, iron, plastic, porcelain, resin.

This ANNA AGTMA assemblage artwork is a parody of "brand innovation" = product potential X customer potential. Brands that don't innovate are soon overcome by inertia, they stagnate and then they die....

The earliest waffle irons originated in the Low Countries around the 14th century. The waffles would be baked over the hearth fire. Dutch pilgrims brought waffle irons to America in the 1620s. In 1869 the American Swarthout patented the first US waffle iron for wood and gas stoves. In 1911 General Electric produced its first electric waffle iron.







<
>
Go to Assemblage Art overview.
Price: € 1.250