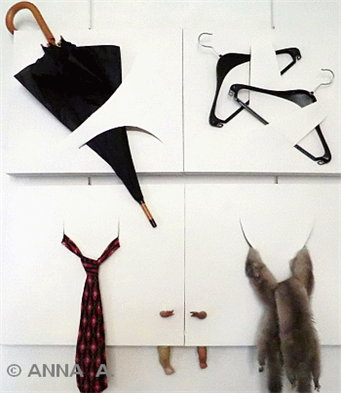 BEYOND SPATIALISM:
INSIDE OUT,
2014
MUM, DAD and ME,
2014
10 by 50 by 102 cm.
10 by 60 by 102 cm.
Canvas, fur, metal, resin, wood.


In 1947 Lucio Fontana started a new art movement suitable for the modern age called « spatialism », following his desire to work in four physical dimensions and assaulting therefore the sacrosanct surface of the canvas, either by making holes in it or by slashing it with sharp linear cuts.
ANNA A. wants to go beyond spatialism, interlacing everyday utensils to the slashed canvas lines, resulting in a framework of Lucio's dream of the infinite and the rather profane reality of life.

Sold