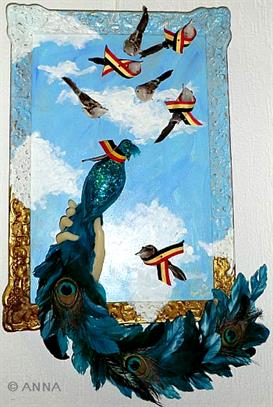 BIRDS OF BELGIUM, 2012


10 by 45 by 75 cm.
Feathers, resin, textile, wood, original 20th century frame.

Parody of the difficult Government formation (world record) in Belgium during the years 2010 and 2011. The parties were often just more concerned to obtain the largest possible part of the State budget.

At the bottom of the panel you can see a cloud in the shape of the
Kingdom of Belgium, referring to a possible break up of the country.
Sold