ICARUS: FLYING INSTRUCTIONS, 2011


8 by 85 by 95 cm.
Feathers, paper, plastic, tulle, original 19th century French frame.

Manneken-Pis, the most famous urinating statue of Brussels, is dressed in costume several times a year, according to a published schedule which is posted on the railings around the fountain. His wardrobe consist of several hundred different costumes, many of which may be viewed in a permanent exhibition inside the City Museum, located in the Grand Place, immediately opposite the Town Hall.
Although the proliferation of costumes is of twentieth-century origin, the occasional use of costumes dates back almost to the date of casting, the oldest costume on display in the City Museum being of seventeenth-century origin. The changing of the costume on the figure is a colourful ceremony, often accompanied by brass band music (and lots of beer and wine). Many costumes represent the national dress of nations whose citizens come to Brussels as tourists; others are the uniforms of assorted trades, professions, associations, and branches of the civil and military services.
So why not depict Manneken-Pis as Icarus and give him wings to fly and conquer the sky? It is not the fall but the rise of Icarus, that is interpreted by ANNA AGTMA. Icarus started off, ignoring the flying instructions, given him by his father (to urinate before taking the sky and so have less weight) and so the story ended badly. A tragic example of hubris or failed ambition.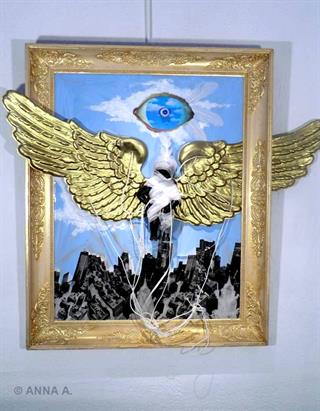 Price: € 1.900