MAKE ART, NOT WAR
or
MYTHS OF THE RAVEN, 2012


35 by 55 by 170 cm.
Feathers, 19th century plaster cast, plastic, wood.

The Borghese Gladiator is an Hellenistic marble sculpture portraying a swordsman, created by Agasias of Ephesus about 100 BC. It is however conjectured to represent Achilles fighting with the Amazon Penthesilea. The sculpture was added to the Borghese Collection and sold in 1807 to Napoleon Bonaparte. The collection now resides in the Louvre.

The assemblage artwork by ANNA AGTMA represents Achilles with the raven, a bird of symbolism and lore: mystery, magic and omens both good and bad, often associated with death and a forewarning of war. But there is much more to this enigmatic and intelligent bird: the raven is a trickster, a protector, a teacher and a bringer of great magic, all Achilles needed.

But preferably make art, not war.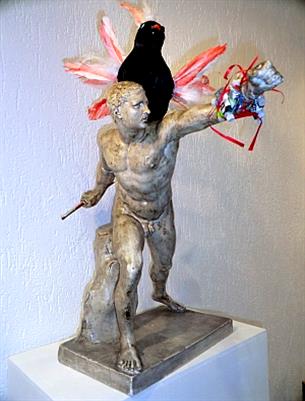 Sold
ANNA A.