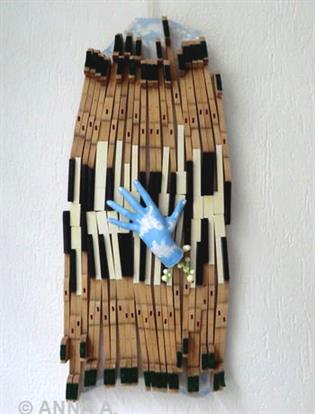 6 ETUDES POUR LA MAIN GAUCHE SEULE,
2012

10 by 37 by 90 cm.
Ivory, pigments, resin, textile, wood.


A ďcompositionĒ by ANNA AGTMA and Camille Saint SaŽns.

Saint SaŽns was one of the most precocious musicians ever.
Beginning piano lessons at two-and-a-half and composing his
first work at three, he was only 5 years old when he gave his
first public performance.
In England and the US Saint SaŽns was hailed as Franceís
greatest living composers. He died in Algeria. In the last two
decades of his life he remained attached to his dogs and was
largely a loner.
Price: Ä 1.750