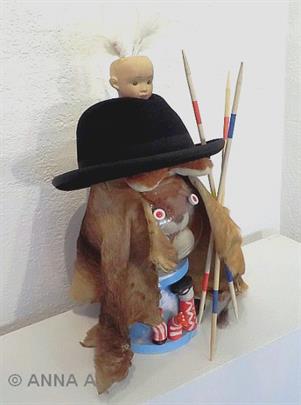 FLUXUS, 2012


30 by 45 by 64 cm.
Feathers, glass, pigments, plastic, porcelain, skin, textile, wood.

The philosophy of the Fluxus artistic movement (since 1961) is a synthesis of attitude, intermedia, simplicity and humor. Fluxus played an important role in the opening definitions of what art can be. Joseph Beuys, Yoko Ono and Nam June Pak were members of this experimental art movement.

The sculpture FLUXUS, 2012 by ANNA AGTMA is a homage to Joseph Beuys, whose extensive work is grounded in concepts of humanism, social philosophy and antroposophy, culminating in the idea of a "Gesamtkunstwerk".
Sold