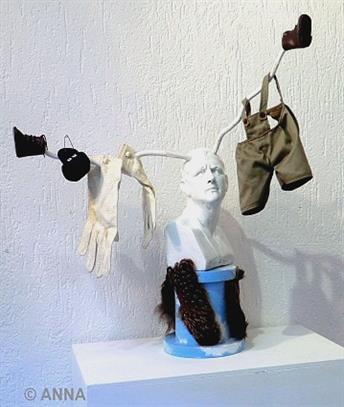 KALAUREIA REVISITED, 2012

40 by 50 by 57 cm.
Feathers, leather, plaster cast, plastic, textile, wood.

To make his living Demosthenes (384 - 322 BC) began his career as a logographer and advocate, after undertaking a disciplined program to overcome his weakness and improve delivery, including voice and gestures.
In 354 BD he delivered his first political oration "On the Navy" and thus laid the foundation for his future political successes.
After the confrontation with Philip II (Philippics) and Alexander the Great the Harpalus Affair (embezzlement) led to his imprisonment but he escaped to the island of Kalaureia (Poros today).

ANNA AGTMA's assemblage artwork shows Demosthenes during his unpretentious abode in Poseidon's temple on the island of Kalaureia where he finally took poison to avoid being arrested again.

Sold